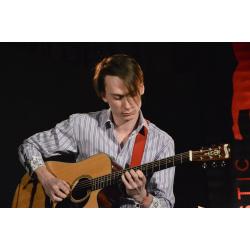 Téo Crommen
Guitare DADGAD
Biographie
Né un 27 novembre, tout comme un certain Jimi Hendrix, Téo est immergé dès sa naissance dans des atmosphères où musique, amitié et bonnes vibrations font quasi partie du quotidien. Que ce soit à la maison, où les habitués se nomment Stotzem ou Froidebise, ou durant les stages de Virton, chaque année aux vacances de Pâques, il manifeste très vite son intérêt pour les 6 cordes et n'a pas encore 8 ans lorsque Jacques Stotzem lui offre sa première guitare. A partir de là, il ne se passe pas un jour sans qu'il joue dessus et l'emmène partout avec lui. Après une formation en guitare classique à l'Académie de Malmedy, Téo suit le cursus de guitare jazz au Conservatoire Royal de Bruxelles, dont il sort diplômé avec distinction en juin 2019. Dans la foulée, il renoue avec son amour pour le rock n' roll en intégrant les groupes Such a Noise en 2018, puis Chatte Royal en 2021. Animateur depuis 2016 d'un atelier de rythme au stage de Musique Acoustique à Virton, il rejoint en 2022 l'équipe « jazz » de l'AKDT de Libramont.
Programme
Connaissez-vous le DADGAD, cet accordage spécial dont parlent tant de guitaristes ? Ce stage est l'occasion de perfectionner votre connaissance de cet open tuning si souvent utilisé en musique irlandaise et celtique en général. Depuis les accords jusqu'aux mélodies, nous allons explorer le son du DADGAD à travers l'apprentissage de morceaux celtiques (prenez votre capodastre).
https://www.rtbf.be/auvio/detail_le-monde-est-un-village?id=2927855
---

Biography
Born on November 27, just like someone called Jimi Hendrix, Téo was immersed from birth in music, friendship and good vibes. Whether at home, where some of the regulars are Stotzem and Froidebise, or during the International Workshops of Acoustic Music in Virton, he showed an early interest in the 6-stringed intrument and was not yet 8 years old when Jacques Stotzem gifted him his first guitar. From that moment, not a day went by without him playing it and taking it everywhere with him. After training in classical guitar at the Academy of Malmedy, Téo studied jazz guitar at the Royal Conservatory of Brussels, from which he graduated cum laude in June of 2019. In the process, he reconnected with his love for rock n' roll by joining the groups Such a Noise in 2018, then Chatte Royal in 2021. In 2016, Téo started teaching rhythm at the International Workshop of Acoustic Music in Virton, then joined the team of jazz teachers at AKDT in Libramont in 2022.
Program
Have you heard of DADGAD, this open tuning used by so many guitarists in Irish and celtic folk music? This workshop is the perfect opportunity for you to explore further into the sound of DADGAD, through learning chords and melodies of the celtic musical culture (bring your capo).
https://www.rtbf.be/auvio/detail_le-monde-est-un-village?id=2927855