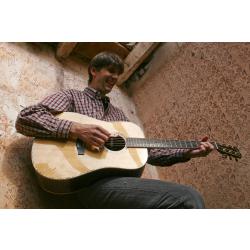 Roberto Dalla Vecchia
Guitare Flatpicking
Biographie
Ses compositions hautement mélodiques ont une qualité vocale et un phrasé convenant à un musicien qui est né et a grandi dans un pays où l'opéra et le grand chant sont aussi omniprésents que les pâtes.
Originaire d'Italie, le guitariste Roberto Dalla Vecchia puise ses racines dans son pays natal pour créer ses mélodies Folk Bluegrass.
Les fans décrivent la musique de Roberto comme une combinaison émotionnelle, élégante et sincère: tête, cœur et mains se marient parfaitement.
Ils décrivent également son jeu de guitare comme unique, axé sur la beauté et l'éternel, une manière de jouer qui vous fait fermer les yeux et vous faire voyager dans de beaux endroits.
Roberto a la réputation méritée d'être quelqu'un de chaleureux, de patient et est reconnu pour sa compétence pédagogique. Il dirige son propre stage de guitare acoustique et fait partie de la société d'enseignement en ligne TrueFire.
En outre, il est l'auteur de plusieurs livres et vidéos d'instruction.
Il est le lauréat 2003 du Homegrown CD Award du magazine Acoustic Guitar.

Programme
Le stage de guitare flatpicking est destiné aux joueurs de tous niveaux. Les stagiaires doivent être à l'aise avec un plectre et doivent être en mesure de lire une tablature ou la notation standard. Cours donné en anglais.

Thèmes :
- Solo & improvisation
- Common Bluegrass flatpicking lick
- «Back up guitar riff» que tous les guitaristes devraient connaitre.
- The art of solo flatpicking
- Carte du manche de la guitare
Morceaux :
- Down in the Willow Garden
- Wayfaring Stranger
- Country Boy Rock & Roll
- Turkey in the Straw

Tous les morceaux et exercices proposés seront retransmis dans un syllabus sous la forme de tablature et de notation standard.
---
Biography
His highly melodic compositions have a vocal quality and phrasing, fitting for a musician who was born and bred in a land where opera and great singing are as ubiquitous as pasta. - Wood & Steel
Based in Italy, guitarist Roberto Dalla Vecchia draws deeply from his homeland to craft Melodic Folk Bluegrass tunes.
Fans describe Roberto's music as emotional, elegant, heartfelt: head, heart and hands in perfect combination.
They also describe his guitar playing as unique, focused on beauty and the eternal in every thing, a way of playing that makes you close your eyes and travel to beautiful places.
Roberto has a deserved reputation for warmth, patience, and extraordinary teaching skills. He runs his own Acoustic Guitar Camp and he is part of the leading online instruction company TrueFire.
In addition, he is the author of several instructional books and videos.
He is the winner of Acoustic Guitar Magazine's 2003 Homegrown CD Award

www.robertodallavecchia.com
Program
Flatpicking guitar classes are for all levels guitar players, students should be comfortable with a pick and should be able to read tablature or standard notation. Instructor speaks English fluently and very little French.

Topics :
- Soloing and improvisation
- Common bluegrass flatpicking licks
- Back up guitar riffs that every guitar player should know
- The art of solo flatpicking
- Fingerboard Map
Tunes :
- Down in the Willow Garden
- Wayfaring Stranger
- Country Boy Rock & Roll
- Turkey in the Straw
All the pieces and exercises will be supported by a book printed in both standard and tablature notation.