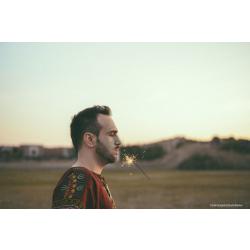 François Vaiana
Chant
Biographie
François Vaiana est un chanteur et compositeur bruxellois. Après avoir joué de la basse et des percussions, il tombe amoureux de la voix. Il se forme au Jazz Studio d'Anvers, au Long Island University à Brooklyn New York, et au Koninklijk Conservatorium van Brussel dans la classe de David Linx.

En 2008 il co-crée le Brussels Vocal Project avec lequel il sort un album « the Art Of Love » et un EP « BVP-BXL ». Le groupe à été invité pour des collaborations avec Fabrizio Cassol, le Brussels Jazz Orchestra et Wildbirds and Peacedrums... ils sortent leur nouvel album « Modern Tales » en octobre 2019 sur le label parisien Signature.

Il compose, arrange et écrit pour son quartet Blue Monday People avec lequel il sort un EP « Love » en 2015 et un album « Empire Of Matches » en 2016. Il joue et enregistre avec Yves Peeters Gumbo, Pitcho et Al Funduq. François travaille comme parolier et écrit pour les projets de Loïs Levan et Tom Bourgeois.
Programme
Cette année, la classe de chant sera donnée par Elsa Grégoire et François Vaiana. Pour s'assurer que tout le monde puisse retirer un maximum d'informations lors de cette semaine, la vingtaine de stagiares seront répartit en deux groupes, et travaillerons à tour de rôle avec les deux professeurs.
Chaque groupe travaillera sur un morceau a cappella; ainsi que sur diverses techniques vocales, d'improvisation et d'interpretation. Chaque stagiaire bénificiera également d'une scéance de cours individuel ce qui lui donnera la possibilité de poser ses questions pour un suivi plus personnalisé.Comme chaque année, nous travaillerons sur un morceau A Cappella avec toute la classe, pièce que nous présenterons au concert des élèves.
Un dernier mot: un stage est l'occasion de poser vos questions et d'obtenir des clefs concrètes et efficaces pour vous améliorer. Anticipez cette expérience - venez préparés!
---
Biography
François Vaiana is a singer and composer from Brussels. After playing bass and percussion, he fell in love with the voice. He trained at the Antwerp Jazz Studio, Long Island University in Brooklyn New York, and at the Koninklijk Conservatorium van Brussel in the class of David Linx.
In 2008 he co-created the Brussels Vocal Project with which he released an album "the Art Of Love" and an EP "BVP-BXL". The band was invited for collaborations with Fabrizio Cassol, the Brussels Jazz Orchestra and Wildbirds and Peacedrums ... they released their new album "Modern Tales" in October 2019 on the Parisian label Signature
He composes, arranges and writes for his quartet Blue Monday People with which he releases an EP "Love" in 2015 and an album "Empire Of Matches" in 2016. He plays and records with Yves Peeters Gumbo, Pitcho and Al Funduq. François works as a lyricist and writes for the projects of Loïs Levan and Tom Bourgeois.
Program :
This year, the singing class will be given by Elsa Grégoire and François Vaiana. To ensure that everyone can get as much information as possible during this week, the twenty or so student will be divided into two groups, and we will work in turn with the two teachers.
Each group will work on an a cappella piece; as well as various vocal, improvisation and interpretation techniques. Each student will also benefit from an individual lesson session which will give them the opportunity to ask their questions for a more personalized follow-up. As every year, we will work on an A Cappella piece with the whole class, piece that we will present at the concert of students.
One last word: an workshop is an opportunity to ask your questions and obtain concrete and effective keys to improve yourself. Anticipate this experience - come prepared!