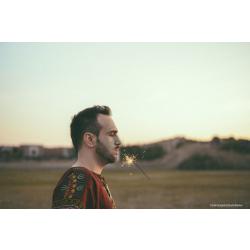 François Vaiana
Chant
Biographie
François Vaiana est un chanteur et compositeur bruxellois. Après avoir joué de la basse et des percussions, il tombe amoureux de la voix. Il se forme au Jazz Studio d'Anvers, au Long Island University à Brooklyn New York, et au Koninklijk Conservatorium van Brussel dans la classe de David Linx.

En 2008 il co-crée le Brussels Vocal Project avec lequel il sort un album « the Art Of Love » et un EP « BVP-BXL ». Le groupe à été invité pour des collaborations avec Fabrizio Cassol, le Brussels Jazz Orchestra et Wildbirds and Peacedrums... ils sortent leur nouvel album « Modern Tales » en octobre 2019 sur le label parisien Signature.

Il compose, arrange et écrit pour son quartet Blue Monday People avec lequel il sort un EP « Love » en 2015 et un album « Empire Of Matches » en 2016. Il joue et enregistre avec Yves Peeters Gumbo, Pitcho et Al Funduq. François travaille comme parolier et écrit pour les projets de Loïs Levan et Tom Bourgeois.
Programme
La classe de chant travaillera avec les deux professeurs, aussi bien en individuel qu'en scéance de groupe! Vous recevrez chacun une séance individuelle lors de laquelle il vous sera possible de travailler sur la technique vocale, sur l'interprétation ou sur des techniques d'improvisation. L'idéal est que vous apportiez un morceau que vous connaissez déjà et sur lequel vous souhaitez travailler - pensez à avoir les accords et le texte avec vous pour ne pas perdre de temps à les chercher sur place. Pour ce qui est du travail de groupe, et contrairement aux années précédentes, nous vous enverrons par email trois semaines à l'avance certains morceaux sur lesquels nous travaillerons en polyphonie. Vous recevrez les différentes pistes vocales pré-enregistrées ainsi les versions tutti" afin de pouvoir vous préparer au stage. Ici aussi, l'idée est de ne pas perdre trop de temps à apprendre la musique, mais bien à en faire! Nous travaillerons en petits ensembles en divisant la classe en 2 groupes, et travaillerons également sur un morceau avec le groupe au complet.
Nous nous réjouissons de vous rencontrer ou de vous retrouver très bientôt!
---
Biography
François Vaiana is a singer and composer from Brussels. After playing bass and percussion, he fell in love with the voice. He trained at the Antwerp Jazz Studio, Long Island University in Brooklyn New York, and at the Koninklijk Conservatorium van Brussel in the class of David Linx.
In 2008 he co-created the Brussels Vocal Project with which he released an album "the Art Of Love" and an EP "BVP-BXL". The band was invited for collaborations with Fabrizio Cassol, the Brussels Jazz Orchestra and Wildbirds and Peacedrums ... they released their new album "Modern Tales" in October 2019 on the Parisian label Signature
He composes, arranges and writes for his quartet Blue Monday People with which he releases an EP "Love" in 2015 and an album "Empire Of Matches" in 2016. He plays and records with Yves Peeters Gumbo, Pitcho and Al Funduq. François works as a lyricist and writes for the projects of Loïs Levan and Tom Bourgeois.
Program :
The singing class will work with the two teachers, both individually and in a group session! You will each receive an individual session during which you can work on vocal technique, interpretation or improvisation techniques. Ideally, you bring a song you already know and want to work on - remember to have the chords and lyrics with you so you don't waste time looking for them on the spot.
As for the group work, and unlike in previous years, we will email you three weeks in advance some songs on which we will work in polyphony. You will receive the various pre-recorded vocal tracks as well as the "tutti" versions in order to be able to prepare for the course. Here too, the idea is not to waste too much time learning music, but doing it! We will work in small groups dividing the class into 2 groups, and also work on one piece with the whole group.
We look forward to meeting or seeing you again very soon!