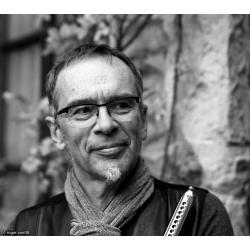 Thierry Crommen
Harmonica
Biographie :
L'harmoniciste Thierry Crommen s'est fait connaître dès les années '80 en tant qu'instrumentiste brillant et accompagnateur convoité. Son aptitude à manier aussi bien l'harmonica chromatique que le « Blues Harp » a fait merveille, tant en studio que sur scène. Entre autres collaborations, citons : Michel Fugain, Sanseverino, Renan Luce, Rapsat, BJ Scott, Marc Lelangue, Johan Verminnen, Froidebise, et bien sûr Jacques Stotzem, grand pionnier de ces stages de Virton (*), avec qui il formera un duo de renommée internationale.
Co-auteur avec JJ Milteau & Greg Szlapczinski d'une méthode d'harmonica qui fait toujours référence, il a aussi marqué de son interprétation la musique du film "Les Enfants du Marais".
Entre 2006 et 2012, ses concerts en quartet avec Chris DePauw (g), Erno (p) et Achim Tang (b) remportent un vif succès et font l'objet de plusieurs sélections prestigieuses tant en Belgique qu'à l'étranger. Trois CD's concrétisent cette inoubliable expérience, révélant un style et une écriture bien à lui.

Par la suite, il découvre l'univers du « jeune public », via une tournée des Jeunesses Musicales en duo avec Chris DePauw, puis au fil de sa collaboration avec Geneviève Laloy (3 CD's et nombreux concerts en Belgique et en France).
L'année 2016 reste marquée par sa tournée exhaustive aux Pays-Bas (54 concerts!) dans un spectacle qui fait revivre l'intégrale de l'album « Songs in the Key of Life » de Stevie Wonder. En plus de l'harmonica, il s'intègre à la section de cuivres (au sax alto).
Actuellement, on peut l'entendre jouer avec Green Moon (CD Tyto Alba et concerts avec la Green Moon Tribe) et Such a Noise XXL (aussi dans les cuivres), deux formations où il se retrouve aux côtés de son fils, le guitariste Téo Crommen ! A suivre aussi, sa collaboration avec le quatuor à cordes hollandais Pavadita, dans un programme « Air for Piazzola » dédié au répertoire de ce grand compositeur.
Entre modern folk, blues-rock décapant et tango argentin, qu'illustrent ces trois derniers projets... Thierry renonce plus que jamais à s'enfermer dans la routine !
(*) ces stages lui donnent l'occasion de retrouvailles musicales avec la plupart de ses collègues, dont quelques-unes se sont prolongées « extra-muros » dans divers projets, avec notamment Stéphane Wertz, André Klenes, André Vandomber, Kieran Fahy, Philmarie…
Programme :
---
Biography :
Harmonica player Thierry Crommen became known in the 80's as a brilliant instrumentalist and coveted accompanist. His ability to handle both the chromatic harmonica and the "Blues Harp" led him soon to work with numerous musicians/singers, on stage as well as through recording sessions. Among his collaborations with some prominent artists of the Belgian and French music scene, let's mention Jacques Stotzem, great fingerstyle master, and pioneer of these workshops at Virton. Together they performed as a duo of international renown : Europe, Japan, USA (CD Different Ways) .
At that time he also played as soloist on the soundtrack of the film "The Children of the Marsh" (Les Enfants du Marais, France – dir. J. Becker), and wrote as co-author, with JJ Milteau & Greg Szlapczinski, of a harmonica method that still is the reference for french-speaking harp fans.
Between 2006 and 2012, he was the leader of his own quartet, with Chris DePauw (g), Erno (p) and Achim Tang (b). Their concerts were an amazing success and the quartet won several awards in Belgium and abroad. Three CD's are illustrating this exciting experience and are revealing a style and a writing of his own.

Thereafter, he discovered the world of the "young audience", via a Jeunesses Musicales tour duet with Chris DePauw, and then through his collaboration with Geneviève Laloy (3 CD's and many concerts in Belgium and France).
The year 2016 is marked by an exhaustive tour in the Netherlands (54 concerts!), within a show that revives the complete album "Songs in the Key of Life" by Stevie Wonder. In addition to the harmonica, Thierry becomes integrated into the horns section (on alto sax).
Currently, we can hear him playing with Green Moon (CD Tyto Alba and concerts with the Green Moon Tribe) and Such a Noise XXL (also within horns section), two bands where he's playing alongside his son, guitar player Téo Crommen! Let's also mention his collaboration with the Dutch string quartet Pavadita, in the show "Air for Piazzola" dedicated to the repertoire of this great composer.
Between modern folk, rough blues-rock and Argentine tango, illustrated by these three latest projects ... Thierry refuses - more than ever - to get himself locked in the routine!
Program :