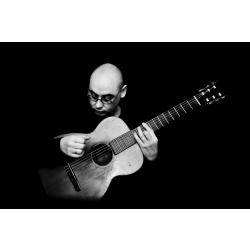 Stéphane Wertz
Guitare Fingerstyle
Biographie
Stephane est un compositeur et guitariste Belge, vivant à Bruxelles. De formation classique (Jacques Delvaux, Sergio et Odair Assad - CRMB), Stephane poursuivra sa formation en fingerstyle Folk/Blues, jazz avec Jacques Stotzem et Jacques Pirotton lors des stage de Musique acoustique de Virton. C'est grâce à ces horizons divers, que Stephane pourra mettre à profit son goût pour l'éclectisme musical. Ce qui l'amènera notamment à être musicien au Théâtre, à collaborer avec des chanteurs (Philmarie, CocoRoyal, Mary M, Antoine Chance,…), à improviser avec des musiciens en Indes, ou encore à s'adonner aux joies de la musique électronique.
Actuellement, et outre ses différentes collaborations aussi palpitantes que ponctuelles, Stephane passe le plus clair de son temps à s'investir dans différents projets pédagogiques, à composer, à improviser, à méditer, à jouer de la guitare, tout simplement.
Programme 2017

"Le Finger dans tous ses états !"

Cette semaine de stage sera l'occasion d'aborder de nombreuses facettes de la guitare Fingerstyle.
Notamment: le Fingerstyle et la chanson, ou comment développer son jeu en tant que chanteur ou accompagnateur. Quelles sont les différentes techniques de jeu aux doigts suivant le style, etc. (Il sera demandé aux stagiaires de proposer différents titres ou projet personnel)
Plusieurs groupes seront formés pour permettre à chacun de trouver sa place, quelque soit son niveau.
Nous aurons également l'occasion de découvrir et de nous inspirer des Fingerpickers célèbres, qu'ils soient soliste ou non. Ce sera l'occasion d'enrichir son jeu en décodant le style des maîtres du genre.

Un atelier créatif sera également mis en place pour rassembler les forces de chacun, afin de créer une œuvre originale qui sera présentée en concert à la fin du stage. Nous aborderons ainsi l'harmonie, l'arrangement, la dynamique,etc.

Le stage est ouvert à tout les niveaux, débutant comme expérimenté.

R: Lors des sessions d'inter-classes, nous aborderons principalement l'improvisation (ex: Sound painting), et le jeu en groupe.
LIEN YOUTUBE:
https://www.youtube.com/watch?v=PqVuoMRB9v8
https://www.youtube.com/watch?v=-xv89b0ScoQ
SITE WEB:
---

Biography
Stephane is a Belgian composer and guitarist, living in Brussels.
Classically trained (Jacques Delvaux, Sergio and Odair Assad - CRMB), Stephane continue his training in fingerstyle Folk / Blues, jazz and with Jacques Stotzem and Jacques Pirotton at Acoustic Music Workshop of Virton.
It is through these diverse backgrounds that Stephane will leverage his taste for musical eclecticism. What led him to be the musician in theatre, collaborating with singers (Philmarie, CocoRoyal, Mary M, Antoine Chance, ...), to improvise with musicians in India, or still indulge in the joys of electronic music .
Currently, and in addition to its various collaborations, Stephane spends most of his time to get involved in different educational projects, to compose, to improvise, to meditate, to play guitar, simply.
Programm 2017
"The Finger in all its forms!"

This week's workshop will be an opportunity to tackle many facets of the Fingerstyle guitar.
Notably: the Fingerstyle and the song, or how to develop his game as a singer or accompanist. What are the different fingering techniques according to the style, etc.? (Trainees will be asked to propose different titles or personal projects)
Several groups will be formed to allow everyone to find his place, whatever his level.
We will also have the opportunity to discover and inspire famous Fingerpickers, whether they are soloists or not. It will be an opportunity to enrich his game by decoding the style of the masters of the genre.

A creative workshop will also be set up to gather the strengths of each one, in order to create an original work that will be presented in concert at the end of the course. We will thus approach harmony, understanding, dynamics, etc.

The course is open to all levels, beginning as experienced.

A: During inter-class sessions, we will mainly focus on improvisation (eg Sound painting), and group play.
YOUTUBE:
https://www.youtube.com/watch?v=PqVuoMRB9v8
https://www.youtube.com/watch?v=-xv89b0ScoQ

WEB:
http://stephanewertz.wix.com/stephanewertz