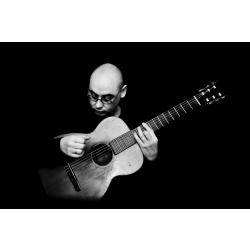 Stéphane Wertz
Guitare Fingerstyle
Biographie
Stephane est un guitariste et compositeur Belge, vivant à Bruxelles. Très tôt influencé le picking de Marcel Dadi, ainsi que par la musique de Baden-Powell, il suivra cependant une formation classique (Sergio et Odair Assad - CRMB). Stephane poursuivra sa formation en fingerstyle Folk/Blues avec Jacques Stotzem.
Passionné par la musique de son temps, Stephane approfondira au conservatoire, master- class et conférences, l'analyse musicale, la composition et l'orchestration.
C'est grâce à ces horizons divers, que Stephane pourra mettre à profit son goût pour l'éclectisme musical. Ce qui l'amènera notamment à être musicien au Théâtre (théâtre Le Public), à collaborer avec des chanteurs (Constanza Guzman, Philmarie, CocoRoyal, Mary M, Antoine Chance,...), où à improviser avec des musiciens en Indes.
Actuellement, et outre ses différentes collaborations aussi palpitantes que ponctuelles (Alex Furnelle, T. Crommen, Philmarie,...), Stephane se consacre à la composition et à la guitare fingerstyle.
Programme
Cette année nous aborderons la guitare Fingerstyle sous toutes ses formes (jeux aux doigts, picking trad, et hybrid picking)
Chaque participant pourra proposer un répertoire qui lui tient à cœur, et nous formerons différents ateliers en fonction des affinités de chacun.
Pour ma part, je proposerai un répertoire naviguant dans les eaux tumultueuses de la soul, du funk et du jazz. James Brown, Marvin Gaye et Stevie Wonder n'auront plus de secrets pour vous ;-)
Le travail en groupe sera favorisé et l'interaction avec les autres classes sera encouragée.
Cependant, du temps sera réservé quotidiennement pour des cours individuels.
LIEN YOUTUBE:
https://www.youtube.com/watch?v=PqVuoMRB9v8
https://www.youtube.com/watch?v=-xv89b0ScoQ
SITE WEB:
---

Biography
Stephane is a Belgian guitarist and composer living in Brussels. Influenced the picking of Marcel Dadi, as well as the music of Baden-Powell, he followed a classical training (Sergio and Odair Assad - CRMB).
Stephane continued his training in fingerstyle Folk / Blues with Jacques Stotzem.
Passionate about the music of his time, Stephane studied at the conservatory, masterclass and conferences, musical analysis, composition and orchestration.
It is thanks to these different horizons that Stephane is able to use his taste for musical eclecticism. This leaded him to be a musician at the Théâtre (Théâtre Le Public), to collaborate with singers (Constanza Guzman, Philmarie, CocoRoyal, Mary M, Antoine Chance, ...), and to improvise with musicians in India.
Currently, and besides his various collaborations as thrilling as punctual (Alex Furnelle, Crommen T., Philmarie, ...), Stephane is devoted to the composition and fingerstyle guitar.
Program
This year we will tackle the guitar Fingerstyle in all its forms (finger games, picking trad, and hybrid picking)
Each participant will be able to propose a repertoire that is close to his heart, and we will train different workshops according to the affinities of each.
For my part, I will propose a directory navigating in the tumultuous waters of soul, funk and jazz. James Brown, Marvin Gaye and Stevie Wonder will have no secrets for you ;-)
Group work will be promoted and interaction with other classes will be encouraged.
However, time will be reserved daily for individual lessons.
YOUTUBE:
https://www.youtube.com/watch?v=PqVuoMRB9v8
https://www.youtube.com/watch?v=-xv89b0ScoQ

WEB:
http://stephanewertz.wix.com/stephanewertz